Lowe's has my favorite outdoor products, so I was thrilled to collaborate with them on this Budget Backyard Makeover. If you haven't checked out the outdoor items at Lowe's yet this year, you need to! They have beautiful things!
We are just about to wrap up the One Room Challenge here and I can't wait to share the reveal with you later this week, but today I am going to share a space that has never been seen here on the blog! Our backyard! I am the first to admit that I am not the best landscaper. I love to renovate and decorate inside our home, but I really don't have the eye for things outside. Not only do I have the eye for it, but I lack the desire too. If you know me personally, you know that I don't like to go outside. Unless of course that outside involves the beach or a big outdoor shopping complex 🙂
We have lived in our home for 3 1/2 years and we have done some work on our front yard, including replacing the front porch and putting in a retaining wall, but our backyard, nothing. Ryan cuts the grass and that's the extent of our outdoor work! So when Lowe's asked if I wanted to complete a backyard project on a budget, that sounded right up our alley! I love budget projects and definitely needed a kick in the pants to get motivated to spruce up our backyard.
Well…you know how sometimes one project spirals into the next and next thing you know you have created a monster? Well, I am definitely guilty of that here. So I went to Lowe's in search of a fire pit and some comfy chairs for around it and I started falling in love with things left and right. I knew I couldn't leave with just a fire pit…so I filled up my trunk with lots of goodies and made my way home! After looking over all of Lowe's seating and tables, I knew we needed an outdoor table. My daughter loves being outside (she didn't get it from me) and I know that she would love having dinner al fresco. Problem is, our back patio area is minuscule and really only fits our grill. So first project spiral number one…we need a back patio.
Well, if we are going to be digging up our yard for a patio, well then we might as well put in that french drain that we desperately need to keep water out of our renovated basement family room. Project spiral number two…put in a french drain. So you see, our fire pit from Lowe's has now turned into an entire backyard renovation! With the amount of rain we have had, our patio and drain aren't finished yet, but I am dying to show you what I got from Lowe's. Their patterns and pieces are so on trend and look like the high end outdoor products you can get elsewhere for so much more money! While I wish I was showing you a final reveal today, you can blame the weather for the delay, but I will share as soon as everything is finished!
I stocked up on a bunch of beautiful pillows that are going to add so much color and comfort to our new patio!
I love this rectangle planked table and chairs and the umbrella will add some much needed shade to our backyard.
I love the slatted detail on the table and also the bright cushions that I picked up for the chairs!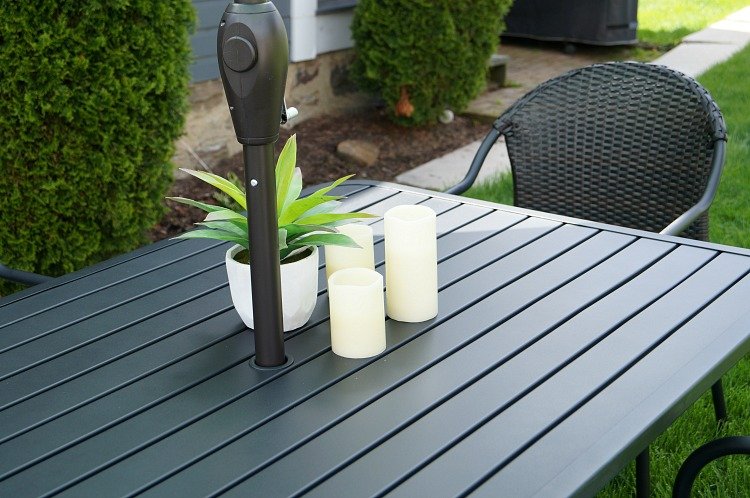 And of course,  I had to get the fire pit! It was my original intention after all! We have had these green Adirondack chairs for years and they are a great height for the fire pit. Now I just need to stock up on marshmallows for my daughter's favorite s'mores!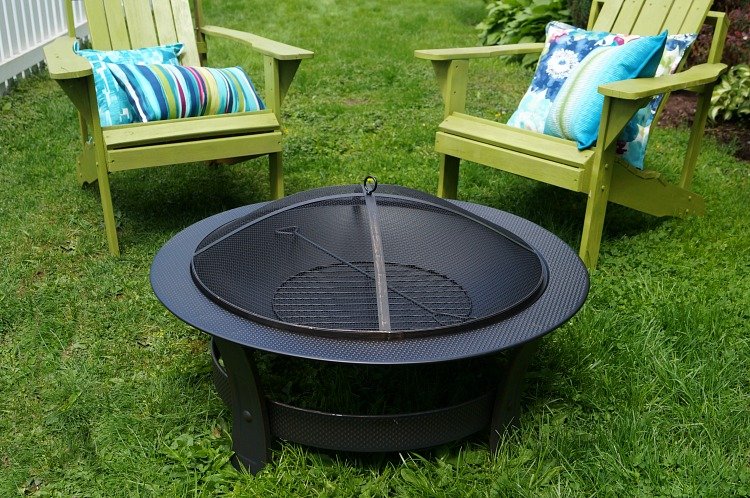 I am so excited to have a space to entertain in outside! Having an extension of our living room is perfect for the upcoming warm summer months! We don't have a ton of space or a large budget, but Lowe's definitely has items perfect for what we needed. Check out their patio guide for some great inspiration.
This is a sponsored post written by me on behalf of Lowe's.